Let Us Help You Make Your
Event
a Success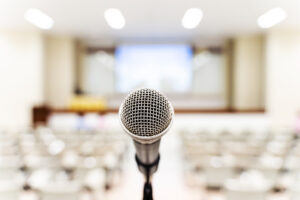 Organizing a large scale corporate meeting or social event can come with its fair share of hiccups. Every detail needs to be in perfect alignment, from the attendees and vendors, to the venue and audio-visual needs. The high standards and ever increasing expectations of your guests can be quite a challenge to meet. With this pressure, it's essential that everything goes smoothly to ensure your guests are truly impressed with their experience!
Luckily, GenesisTech is here to help meet these demands in areas from Adams County PA to Lancaster County PA so you have one less worry on your mind. Specialty in audio-visual productions accompanied by personnel dedicated solely to making your event run as planned allows us to confidently promise an atmosphere that leaves every attendee with satisfaction rather than criticism.
Audio-visual is more than just looking good – it's about delivering an experience to remember. We know this and strive to combine key insights with the latest technologies to make sure that every audience member walks away from their audio-visual presentation feeling inspired. Gone are the days of having to rely on flashy effects alone for audio-visual success, our team focuses on providing content that can inform, educate and excite viewers, all while making use of cutting edge audio-visual techniques. With us, it's not about quantity, it's about quality and creating a captivating audio-visual experience!
Partner with GenesisTech and your events will be outfitted in quality audio-visual equipment that is guaranteed to exceed expectations. Our team of professionals will ensure you have access to the latest technology, making your event truly stand out from the rest. With GenesisTech as your trust partner, you can depend on exceptional customer service to guarantee your events run without a hitch. Together we'll work hard to ensure your event has just the right level of audio-visual support, leaving everyone impressed and engaged, contact us today!
Location
Mechanicsburg, PA
17055
Hours
Mon – Fri: 8am – 7pm
Sat – Sun: By Appointment Only