Your Home

Reimagined
At GenesisTech, we understand that the installation of electronic components can be a daunting task. That is why our team of experienced technicians are here to offer you the best quality installation services available. We guarantee your electronic components will be properly installed with the utmost care and attention to detail. Our top priority is your satisfaction, so we take the extra steps to make sure everything is done right the first time. With our expertise and knowledge, you can rest assured knowing that your project will be completed right.
We provide a wide range of technical installations from flat screens to complete network assembly. Whether you need a TV hooked up, an audio system configured, your home theater room designed and connected, your home or business surveillance camera and security system setup, home automation assistance, business VoIP done, or help with your WiFi and networking – our experts are here for you. We focus on providing an easy-to-understand explanation of the products we install as well as ensuring that all parts are installed correctly and safely.
We are passionate about technology and the wonderful opportunities it provides. Whether used to help foster creativity on projects, improve lives around South Central Pennsylvania, or just to have fun. We proudly serve the South Central Pennsylvania area including Camp Hill, Gettysburg, Harrisburg, and Mechanicsburg in Adams County, Cumberland County, Dauphin County, Lancaster County, and Lebanon County.

As your local visual and audio experts, we understand the importance of having a reliable system which is why we only use high-quality equipment to ensure that you get the best value for your money. Whether it's a simple setup or more complex installations, our technicians have all the necessary tools and experience to get the job done right. If you are looking for quality workmanship with a team that you can count on – look no further than GenesisTech.
Events

and More
Have an event coming up that needs wiring, audio, or additional equipment? We provide event services that include audio-visual installation for any type of occasion. Our technicians have the necessary expertise and equipment to make sure your event is a success. We can handle everything from simple setups to more complex audio and visual installations, so you don't have to worry about a thing. With our experience and attention to detail, we make sure all components are installed correctly while keeping your budget in mind. Then, when the event is done, we can help with the removal of your components if necessary so you have one less thing to worry about!
How about your television setup? GenesisTech TV installation takes your entertainment experience one step further by allowing you to place any size or any brand of television anywhere you want – not just where a TV stand fits! We have the best trained installation technicians and will professionally install your TV with all wiring hidden away. We can mount your flat-panel television set virtually anywhere that you can imagine – from standard wall mounts, over the fireplace, and even outdoors. Your TV is not just a television – it is where you and your family gather and where you and friends come together for a big game or the latest episode of your favorite series. With the revolution of television technology and other audio and video enhancements, you will be watching television with more clarity than ever.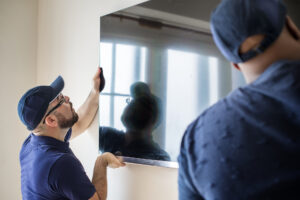 Let's Get to

Business
Does your business utilize voice over internet protocol? If so, we do that too! When setting up your phone system or maintaining a current system of using the internet rather than phone lines – also known as VoIP – remember we are a leading provider of VoIP installation services and we proudly offer the most reliable and cost effective solutions. Our team is highly experienced and can create a custom setup that fits your needs. We also use top quality components to ensure you get the best value for your money and guarantee your satisfaction with our work. Don't hesitate to contact us today to learn more about how we can help with your VoIP installation needs.
With your VoIP all set up now, our team of experts can help you bring your home and business technology solutions up to date as well! With services ranging from installing a new network infrastructure for commercial or residential clients – to extending an existing demarcation line during remodeling projects – we've got you covered. Structured wiring systems are quickly becoming more popular everyday as they're providing additional security measures while taking networking capabilities into uncharted territory. We are here to guide all residents and businesses throughout the Central PA area through selecting the right system to ensure you're maximizing what today's best electronics have to offer.
Or Let's Stay

Home
Let us make life easier for you when it comes to your own ultimate home theater. Give us a call when you need to hire an audio video expert. With us, you can design your home theater and create an entertaining space that is as functional as it is beautiful. We'll optimize your room's viewing experience and acoustics by taking into account the best positioning of your electronics and how to best connect all of your home theater components. We'll even help you select a variety of home theater accessories, such as viewing chairs, satellite dishes, blackout curtains, and universal remotes.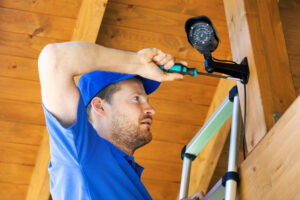 With all of your equipment and personal belongings, protecting your property will also always be a concern as a home or business owner. One way to guard your space against problems such as theft, break-ins, wrongful liability claims, and more is to have a security or surveillance system installed. This is because your home or business is more likely to be burglarized without a security system. Let our security camera experts provide you with a no obligation free quote for a security camera system. At GenesisTech, we strive to provide top-notch security services at an affordable price. Our experienced technicians use their extensive knowledge to guarantee a safe and successful installation process that you can trust. Let us secure your home or business today to ensure the safety of your property and give you the peace of mind that comes along with it.
Staying

Connected
We've mentioned your business VoIP and structured wiring, your home theater, televisions, security systems, and events – how about staying connected? At GenesisTech, staying connected to the world is our top priority! Our comprehensive wireless services cover both home and business applications, from setting up new routers or connecting existing ones to your electronics. Plus, our professional team of experts are equipped with the knowledge needed to map out all of the areas in your home or workplace for optimal cellular boosting and wifi performance so you can stay seamlessly linked.
While we're on staying connected – are you tired of running around the house to control various appliances? Wish you could just sit on your couch and command everything in an instant? GenesisTech brings this dream to reality with home automation solutions that turn your living space into an experience. You can control your lights, music, programs and more from one spot, plus get crystal clear surveillance footage at any time so you know exactly who's been knocking at your door or walking close to your home. Unlock endless possibilities and gain unprecedented access to convenience and comfort in your home. But don't let this overwhelm you, our modular design and expanding abilities offer complete freedom – start simple now while planning for even more convenience down the road.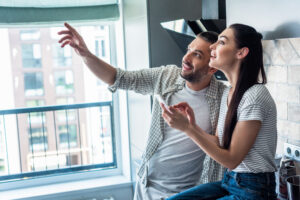 Let's expand on those light commands. Lighting control can make your home more convenient, secure and create the perfect atmosphere for special occasions or everyday living. Dimming lights with one press of a button saves time and energy while shades harness natural light – great for both your enjoyment and wallet! Turning off all the bedrooms when nobody is in them also helps conserve electricity. An intelligent system truly makes life easier and more convenient. Enhance security inside and out at night by activating global scenes from a single remote, dazzling effects are only moments away!
We guarantee our customers reliable performance, no matter the complexity or size of your project. Our professional staff is dedicated to providing you with top notch service from start to finish so that you can rest easy knowing your project is done correctly. We also provide comprehensive warranties on our services to ensure complete satisfaction.
We look forward to providing you with the highest quality of service to make your life easier through our custom installation services. Get in touch with us today for a hassle-free experience and enjoy your electronic components sooner with GenesisTech!
Erich and Dave have helped me countless times through the years while I navigate the world of AV equipment. From running network drops in my house, to installing speakers on my porch, to building a theater in my basement, I have been able to rely on them to provide factual advice, world class service, and fair pricing. I'll even admit, I've shopped around in the past, and they've always had the best pricing, and they're incredibly responsive to every question, no matter how little I understand what I'm asking.
Responsive, honest, very knowledgeable, AND translates techy stuff to me better than anyone! HELPFUL!! My go-to!
Genesis Tech has always gone above and beyond on the scope of their work and dealing with issues. They are a fantastic company and fantastic people to work with - highly recommended!
Genesis Tech has been a great partner in setting up networking and security systems for my home and business. Erich and team are prompt, professional, and super friendly.
Dave and Erich are knowledgeable, reliable, courteous, professional and a joy to work with! They installed a security system for our business. We had MANY questions and they responded patiently and professionally each time. They really focused on customer service and understood that their help was necessary. We VERY HIGHLY recommend Genesis Tech! We plan to use them again soon to add security to our home.
Erich and Dave are helpful, professional and very knowledgeable. We have worked with them on several projects over the last four years and would definitely recommend them for all of your audio, video and networking needs!
Genesis Tech!!!! These guys are the best! Always quick to respond, knowledgeable, and very professional. I honestly don't know what I would do without them! They've assisted me with computer, audio visual and point of sales systems. I'm embarrassed to say but they've even helped me with my smart phone. If your looking for a company that is honest, affordable and professional, look no further! Thanks Guys!
I contacted Dave and Erich to investigate methods to source internet to a barn on our property for small business use. I couldn't be more pleased with their guidance and personal attention for what surely became a minor task for them. Their knowledge and integrity will definitely win them first call on all future technology needs at our 200 year old property! Would recommend them without hesitation!
Location
Mechanicsburg, PA
17055
Hours
Mon – Fri: 8am – 7pm
Sat – Sun: By Appointment Only